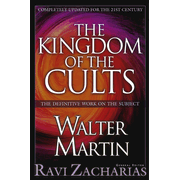 Kingdom of the Cults by Walter E. Martin
Walter Martin's classic resource as updated by cult and occult specialist Ravi Zacharias. Using Martin's well-researched and easily accessible text, Zacharias brings the experience of in-depth study, some would say immersion, into this sometimes confusing field of study and includes many facts and figures covering occurrences in the 1990's (as Martin passed away in 1989).Kingdom of the Cults has always been a trusted resource in times where accurate information is imperative to someone's salvation from the strange world of cults and the occult.
Ranging in topics from the structure of cults to how cults are encountered on the mission field, many cults and movements are described in full, and intimate details of the inner workings can sometimes be indicative of where a cult may be leading. For anyone considering joining any of these groups or looking for more information for a friend or family member, this is an invaluable resource.
Click on the title to order Kingdom of the Cults.