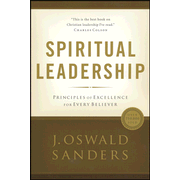 Spirtual Leadership by J. Oswald Sanders

Charles Colson called it "the best book on Christian leadership I've read." Discover why this timeless classic continues to equip tomorrow's ministers—and challenges today's shepherds—toward greater effectiveness! Revised and updated, Sanders's hard-hitting study explores the essential qualities of a godly leader—and offers sterling examples from Scripture and Christian history. Includes study guide.
In these pages, J. Oswald Sanders presents the key principles of leadership in both the temporal and spiritual realms, illustrating his points with examples from Scriptures and the biographies of emenent men of God.
Click on the title to order Spiritual Leadership.
by