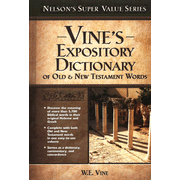 Vine's Expository Dictionary by W.E. Vine
This super value edition of what is hailed as a classic study resource helps those with limited or no background in Hebrew or Greek to study the meaning of biblical words in the original languages. A great and necessary resource for students, pastors, and anyone who enjoys biblical word studies.
Click on the title  to order Vine's Expository Dictionary.
by